Located in more than two acres of tropical gardens and at the border of a river and its pristine water, the Tete Canal cabins welcome you in the heart of Dominica Island.
Whether you're a complete Robinson Crusoe or a first-time adventurer, come and live at the pace of nature in our ecolodges, where comfort and authenticity are combined for an unforgettable stay.
A little bit more about us
Behind the Tete Canal Cottages project, there are two people… We are Christophe and Karine, both nature lovers seduced by Dominica after a trip to the island which transformed our way of viewing our everyday life.
It is near the village of La Plaine that we moved in 2015, on a virgin land crossed by the Wayaneri river. Now living in total ecological autonomy, we are proud to welcome you in our ecolodges and to share with you our lifestyle.
Discover our cabins on stilts and start your adventure in the middle of the Dominican nature.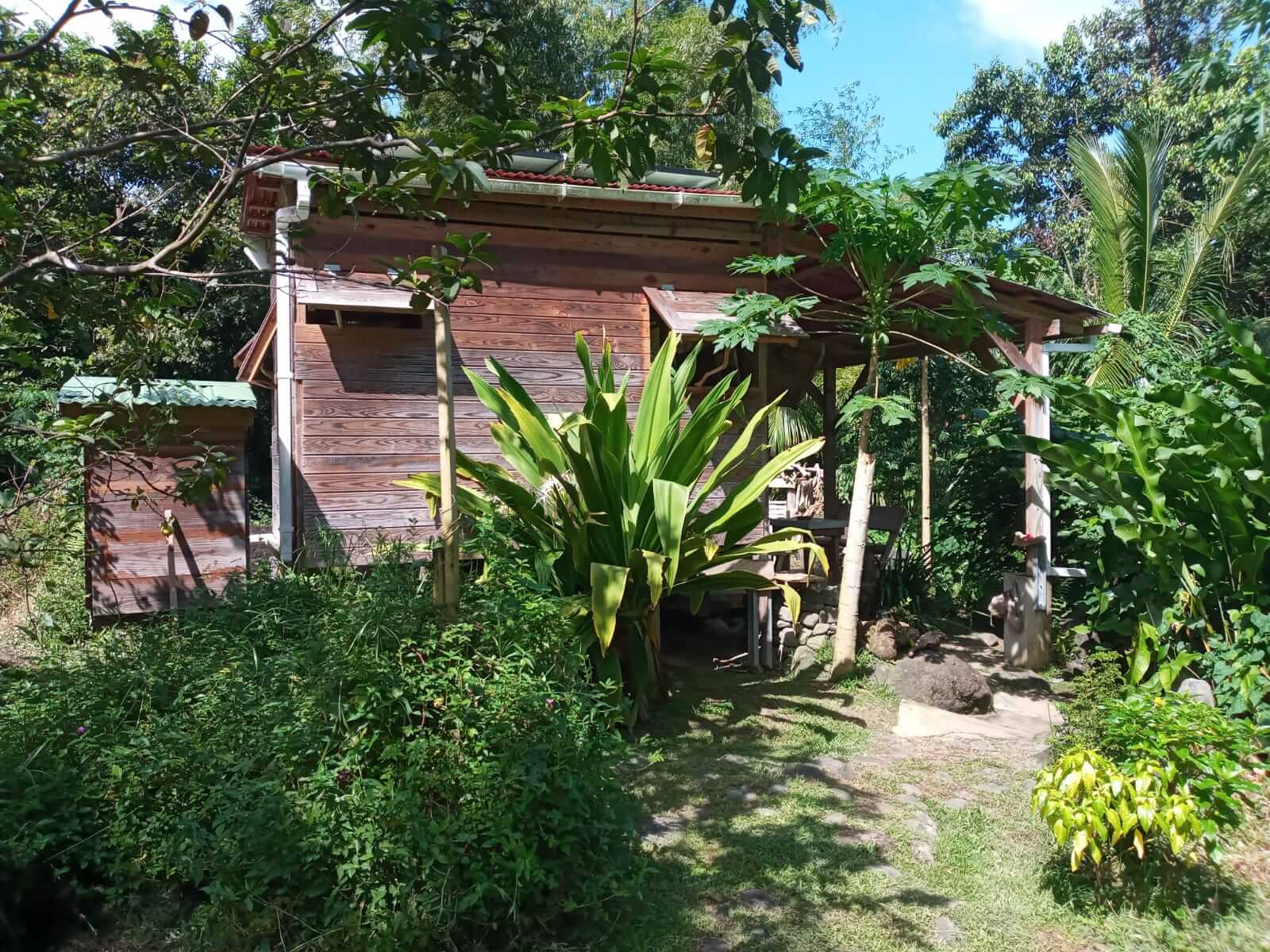 Designed as a nest in the middle of nature, our two-person cabin includes a sleeping area with a queen-size bed, a fully equipped kitchenette and a dining area open to the surrounding gardens. The highlight of the show is the private outdoor shower that will ensure a perfect moment of relaxation and disconnection.
Our cabin on three levels is a real Tiny House in the middle of the jungle. It includes a kitchen on the main floor, a relaxation area and a bathroom on the second floor and a bedroom on the top floor. Enjoy all the comforts of home in an outstanding environment !
Discover a few pictures of our domain and its surroundings. Between breathtaking landscapes and tasty harvests, let yourself be carried by the treasures of Dominica. But be careful… love at first sight is guaranteed!

Places to visit !
Emerald Pool, Glassi, Sari Sari Falls, Spany Falls, Victoria Falls, Bout de Sable without forgetting the different rivers….
We take pride in serving our guests with the best experience possible. Read what they say.
We shared pleasant moments with Christophe and Karine who made us discover their universe, with their gardens, their plants... The accommodation with its outdoor shower and its access to the river is a real moment of well-being. Thank you for everything, we recommend 100% for all nature lovers!
Unique, calm, soothing place. It is a very nice surprise! We warmly recommend it !
A stay in paradise cradled by the river and nature. Disconnection guaranteed! I recommend for nature lovers. The hosts are really welcoming and helpful.
Thank's Karine and Christophe for our magic moment. Everything was perfect. Amazing spot by the river (loved the sunrise) The home made breakfast was lovely. Thank you to have sharing with us your passion for nature and good advices. Hope to come back soon.
Start planning your vacation today